AltOmBilen.dk
AltOmBilen.dk has information about all the vehicles which are, or have been, registered in Denmark. The page can be used free of charge, it has no commercials, and you don't need to create a login. It's our contribution to creating more transparency on the vehicles market.


Check number plate
AltOmBilen.dk is our tool to look up number plates. You only have to enter a VIN or a registration number, and we will show you everything about the car. You can find all the basic information about the car such as age, standard and optional equipment and various technical data, but you can also find out more detailed information such as the cost of periodic taxes, any debt registered on the vehicle, how many owners it has had, when is the next statutory inspection (MOT) is due, and so on. You can also see if the car is allowed to drive in the environmental zones around the big cities – now and in the future.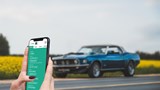 Use our data – completely free of charge
We have made it easy for you to offer accurate vehicle reports on your own website. With our widget, you can easily embed our number plate search tool, so that your users can find information about millions of vehicles.

If you prefer to offer knowledge about specific vehicles, you can use our deep links leading directly to the detailed vehicle report on AltOmBilen.dk.

It's free of charge.